Occupational deafness also known as industrial deafness is a hearing sensitivity impairment that occurs as a result of exposure to high level of noise in a workplace or industrial environment. When individuals are exposed to a prolonged impact of sound in a work environment, they run a high risk of having occupational deafness. The term is also legally used for claims that are related to any form of hearing loss that occurs as a result of noise in a work environment.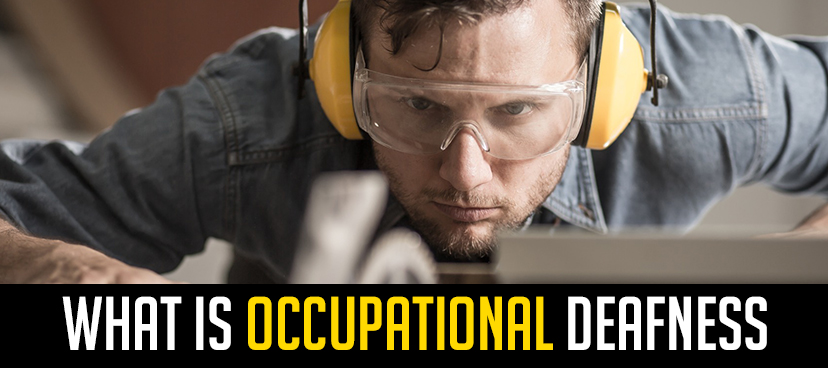 Temporary hearing loss
This form of occupational deafness occurs due to the continuous exposure of a person to a high level of noise. Temporary loss of hearing prevents the individual from hearing a normal voice, and the condition will improve after spending few hours in a silent environment.
Permanent hearing loss
A severe type of hearing loss related to occupational deafness in which the ear cells of individuals suffering from this form of hearing loss is permanently damaged, and can never recover their normal hearing process even after going to a quiet or silent environment. Exposure to a heavy noise of more than 90 decibels or accumulated cases of temporary hearing loss is also the leading causes of this form of hearing loss.
Acoustic trauma
Acoustic trauma occurs as a result of a sudden burst of noise that damages the ear cells and causes a permanent damage to listening sensitivity. Examples of such sudden burst of sounds are bomb explosion, high volume music concert, sudden gunshots or any form of a high eruption of noises. The level of that noise must be 118 decibels and above.
Tinnitus
A category of occupational deafness that is characterized by a continuous ringing, whistling or buzzing sound. The three causes of tinnitus can sustain the effects of the previous types of occupational deafness. Due to its temporary nature, when an individual suffering from tinnitus spends some time in a silent or quiet environment, he/she regains his/her hearing automatically.
Occupational deafness risk factors
Since it has been established that occupational deafness is a result of repeated exposure to high level of noise in the workplace, here are some occupations that pose a high tendency of deafness to its workers:
1. Military and military-related work
2. Orchestra
3. Mining
4. Construction
5. Manufacturing
6. Agriculture
7. Airline maintenance work
8. Music and entertainment industry (DJ's, music concerts)
Other factors that can increase the risk of occupational deafness are:
1. Smoking
2. Having diabetes mellitus
3. Having hyperlipidemia
4. Exposure to ototoxic drugs
5. Genetically susceptible occupational deafness individuals (due to variations in genes)
It must be noted that having a risk factor or not does not necessarily mean an individual will have occupational deafness or not.
Causes of occupational deafness
Occupations or trades that exposes individuals to a consistently high-level frequency of sounds such are military, mining, agriculture, music, and entertainment, etc. Continuous exposure to this high level of noise over time results in the damage and death of hair cells in the ear. Hair cells do not regenerate, hence leading to permanent damage.
Signs and symptoms of occupational deafness
The first sign of occupational deafness after prolonged exposure to high level of sound is the reduced ability in hearing high pitched sounds such as the singing of birds or inability to keep up with conversation in a crowded place with background noise. Over time, the condition becomes severe as an individual is unable to hear high pitched sounds. Another symptom is having ringing sensation or fullness in the ear.
How to diagnose occupational deafness
A detailed physical examination is a conventional way of diagnosing occupational hearing loss. Other types of testing that can be performed are:
Audiometry: A hearing diagnostic tool to test hearing ability that includes occupational deafness.
Imaging tests: This includes getting MRI and CT scans of the brain and ear canal. They are carried out in order to rule out other forms of hearing loss.
There is a high chance that occupational deafness may lead to permanent hearing disability. That is why it is important to get a proper diagnose and treatment.