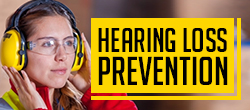 While some people believe that hearing loss is just a normal part of growing older, there actually can be some major damage that occurs to people at a younger age that can cause hearing loss problems. One loud noise, such as a shotgun near your ears can permanently damage your hearing instantly, while other problems will cause hearing loss slowly over an extended period of time. Working with loud machinery, going to loud music concerts regularly, or using power tools regularly without protection can all cause premature hearing loss. Luckily, there are a number of things that you can do to prevent hearing loss from occurring and to take better care of your hearing if you have already caused some damage.
What Causes Hearing Loss?
Hearing loss is caused when excessive exposure to noise actually damages the small, fine hairs in the inner ear. This is similar to the normal aging process, except the damage can occur at any point in your life. You may find that you have to live with ringing in the ears or permanent hearing loss.
Warning Signs of Hearing Loss
Visiting noisy areas, such as concerts or shooting ranges, can leave you with an uncomfortable "full" feeling in your ears. While this may go away eventually, it can cause damage the more that you experience it. If you experience any buzzing in your ears or find it difficult to hear people talking to you after being in a noisy location you may have caused some damage to your hearing. It's regrettable that you may eventually not recover from one of these warning signs, so it's important to be aware of them and treat them as a serious problem.
How to Protect Your Hearing
There are a number of things that you can do to ensure that you are protecting your hearing to the best of your ability. If your occupation puts you at-risk for hearing loss be sure to check with your employer to see if they have a program to help protect your hearing. This program will have to meet state or federal guidelines and regulations. When you are using loud equipment at work or at home, make sure that you use appropriate protections, such as earmuffs or earplugs. You can easily buy these from sporting stores, the pharmacy, or from a hearing clinic in your area. If you like to surround yourself with noisy activities at your home, try to limit them to keep your hearing safe. Be careful when using earphones, as it's easy to turn them up too high without noticing. One great thing to do to protect your hearing is to keep an eye on it by regularly visiting a doctor for a hearing test. This will give you a baseline for your hearing and make it easy for you to see if there have been any negative changes, giving you ample time to adjust your lifestyle before you run into any major problems.
Hearing Loss in Children
Children do not understand how important it is to be careful of their hearing. With all of the electronics that they use and the time spent in front of the tv or with headphones on, it's important for adults to help teach them to protect their hearing. While some people believe that their music is only too loud through headphones if another person can hear it, that actually isn't always the case. You may not be able to hear what a child is listening to, but that doesn't mean that it's at an appropriate level. It's important to monitor the sound level on their electronics and make sure that they aren't causing any damage when listening to them.
Medications
Some medications have hearing loss listed as a possible side effect. If you are on any medicine or get a prescription for something new, always check with your doctor to make sure that the drug they have prescribed won't cause this issue. Sometimes there are alternative medications that you can take that will work as well without the possibility of this unfortunate side effect. Signs that the medication that you're on is causing hearing loss include: tinnitus in one or both ears, intensification of tinnitus that you already had, a feeling of fullness in the ears, hearing loss in one or both ears, or the development of vertigo or other spinning sensations. If you experience any of these signs, make sure to talk to your doctor right away about the possibility of changing your medication.
Hearing loss from noise is completely preventable if you take the right steps. Make sure that you protect your hearing during any loud times, such as at a concert, on a construction site, or while at the shooting range. While you can't fight genetics, you can make sure to protect your hearing to the best of your ability.